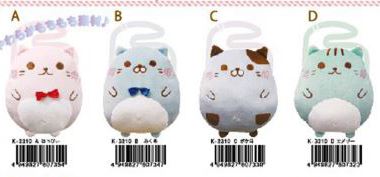 Toraya Picnyan
"Picnyan", is a character of a company called "Toraya", which is molded into the shape of Cat. Even though there are a lot of stuffed cats in Japan, this Picnyan is becoming one of the best-selling products that are sold among teenagers in Harajuku.
"Kawaii" products caused a sensation all over the world. People who are interested in purchasing these products are warmly welcome. However, as it is mentioned previously, a large number of merchandises are beings sold throughout the world. Luckily, Picnyan has not gone out through the market in overseas, therefore if you would be interested in purchasing products such above or that will not be a price competitive with competitors, please contact us.
Picnyan's new series, "Picnyan Shoulder Bag" and "Picnyan Mochipeta G & S Plush L" is now on its way to hit the market! Picnyan has just launched its new shoulder bag and plush toy. No doubt, this plush toy will make your entrance by their invincible cuteness! The colors will also be expanded with a total of 6 colors! Why not take a selfie to post on your Instagram account? Picnyan bags give the fun taste of what's it like to go out shopping with your pet, as well as plush toys will do its job as gifts. In case you're interested, please contact us for further information!