Roicosmo wholesale cosmetics and natural food exporting from Japan.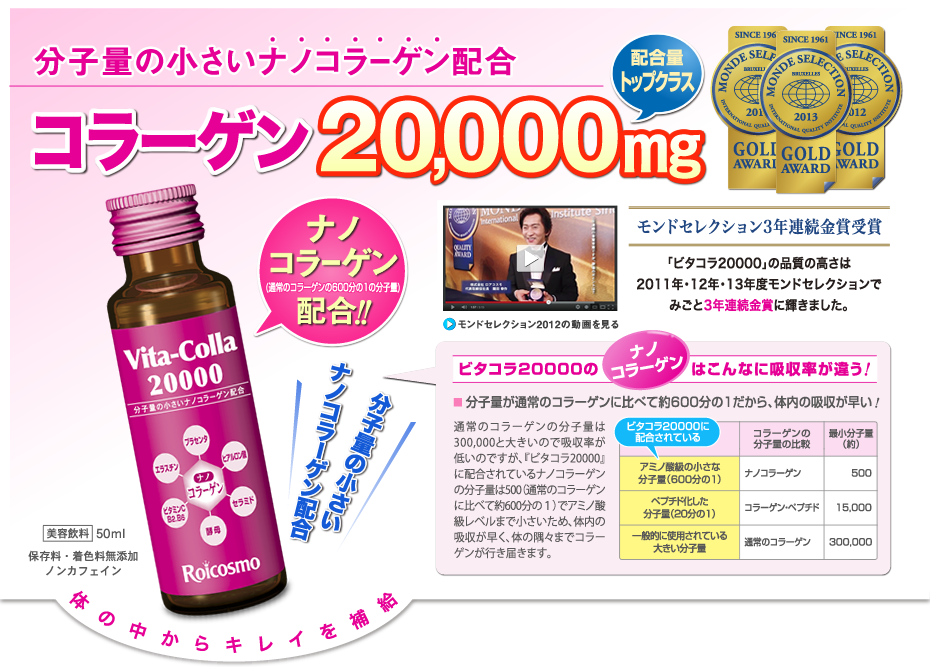 Vita-Colla 20000
Nano-collagen 20,000mg
It does not mean that anything is possible if collagen is blended. The influence on cosmetic will also change greatly with the concentration and quality being formulated. "Vita-colla 20000" contains 20,000 mg of nano collagen with high quality and better absorption, so you can feel the difference immediately. Collagen is a constituent that makes up your body. Roiacosmo believes that it is ideal for collagen to consume 20,000 mg per day after 30 years of age for beauty.
Placenta 50mg
The placenta is expected to promote the formation of collagen and adjust the balance of the body including "3 proteins" "protein" "carbohydrate" "lipid" and also including "amino acid" "mineral" etc.
HyHyaluronic acid 5.0mg
hyaluronic acid stores as much as 6 liters of water in 1 gram to prevent drying. Collagen, hyaluronic acid as well as ceramide is a constituent that makes the body, beauty and health are important ingredients.
Elastin 30mg
Elastin is present abundantly in the body next to collagen.
It is an ingredient that is excellent in elasticity and is an important ingredient in the body.
Natural yeast 5.0mg
When fused with other ingredients, yeast has the property of enhancing the nutritional value of other ingredients. For example, it enhances nutrition such as placenta and hyaluronic acid. Yeast is an ingredient that is necessary for a healthy body to produce enzymes.
Vitamin B2 2.0mg, B6 2.0mg
Vitamin B2, B6 are responsible for mediating the efficient decomposition of ingested lipids, carbohydrates and proteins and transporting nutrients to every corner of the body, supporting the growth of beauty and health.
Vitamin C1,100mg
Vitamin C, an essential nutrient, plays an intermediary role to help absorb the ingested collagen and settle it in the body. When ingesting collagen, it is one of the indispensable ingredients. I am blending 1,100 mg (equivalent to 55 lemons) of such Vitamin C.
Ceramide 600μg
Ceramide is a component that is responsible for moisturising among the constituents of the body. Let's positively adopt it for beautification.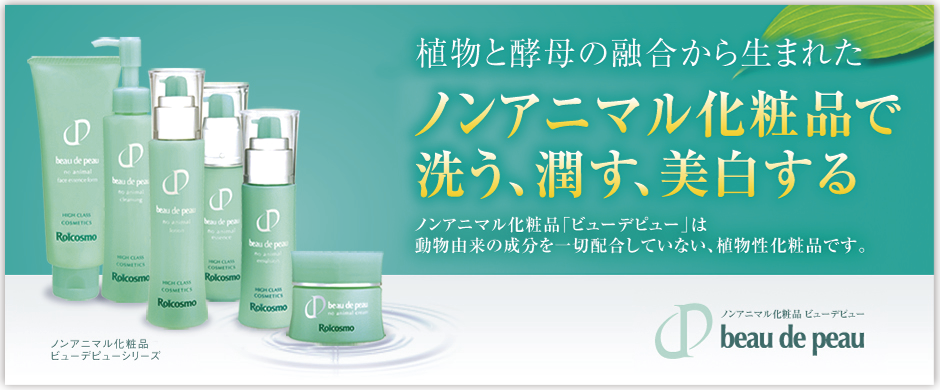 Beau de Peau
(Non-animal cosmetics)
Everything was born from the idea of taking nature into the body.
With the results of research thoroughly investigated the effects on the skin, such as the nature, stimuli, toxicity, atopy of all ingredients in cosmetics, one by one for seven years, Roicopsmo was able to sort out 127 kinds of excellent beauty ingredients which are really good for the skin.
And, eliminate any ingredients derived from animals that are expected to worry about mad cow disease, bird flu, swine influenza, etc. "Healing ingredients" created from the fusion of plants such as flowers, fruits, herbs and yeast.
Please realise the result of thoroughly studying and investigating the ingredients for making the skin beautiful, with non-animal cosmetics "View Deep".
127 natural ingredients to make truly beautiful bare skin from plants and yeast
The ingredients from animals that derive stress on the skin are not used at all in this Non-animal cosmetics, "healing ingredients" created from the fusion of plants such as flowers, fruits, herbs and yeasts leads to healthy and fresh white skin while healing the stress of the skin.
Your skin will be cleaner than it is now.
We made "skin-friendly non-animal cosmetics" by fusing 127 kinds of natural ingredients such as vegetable collagen, vegetable hyaluronic acid, flower and fruit, herbs and ceramide yeast and coenzyme Q 10. Non-animal cosmetics "view depower" contains 64 to 91 kinds of natural ingredients compounded in one item. The top class of the industry beauty ingredients are blended.
If you want to import such cosmetics overseas. But I do not know how to import. We can organise it for you.