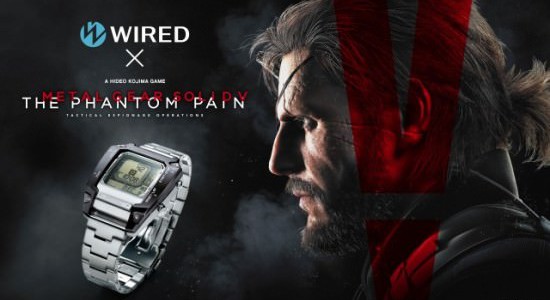 METAL GEAR SOLID V : THE PHANTOM PAIN X SEIKO 'DIGIBORG' WATCH
The watch worn by Snake in upcoming METAL GEAR SOLID V: THE PHANTOM PAIN will be released on 3 September 2015, following the game's release on the 2nd!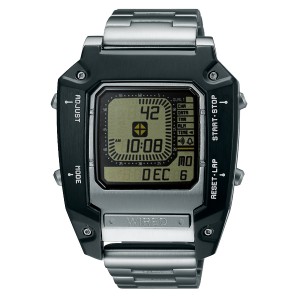 In METAL GEAR SOLID V, the Digiborg watch appears on your screen when Snake smokes the electrical cigar, known as the 'Fantom Cigar', to speed up time.
The same model that Snake uses in game will be sold in the real world.
This is the ultimate game collaboration model!
Exclusive online pre-orders for this super rare item sold out 5 minutes after they began!
ITEM FEATURES
*Integration with the Game
You can use the same watch that the main character uses in game.
Please note, however, that some of the game functions are not available on the watch.
The brand name does not appear in game, to demonstrate that they are not the same.
*Numbered to Increase Exclusivity
Limited release of 2500 worldwide.
The exclusive number out of 2500 is written on the back.
*Original Box
The art director of the Metal Gear Series designed the original box for this watch. The artwork of Snake wearing the Digiborg is designed especially for the item.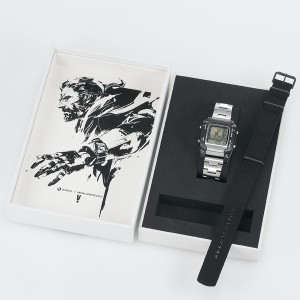 *Changeable Nylon Band Attachment
Snake wears the Digiborg watch with a nylon band. Like Snake, you can attach a nylon band to your watch to get that realistic feel.
This nylon band is two or three times stronger than ordinary nylons, due to the use of 'CORDURA®', which is used for outdoor and military purposes.
Product Description
Product Dimensions: 52.5 x 42.0mm, 15.3mm height (external box diameter)
Waterproof Resistance: Enhanced Practical Waterproof (10 bar)
Loss/Gain: 30 second monthly (worn on the wrist within normal temperature range between 5℃ and 35℃).  
Additional Features: Stopwatch (1/100 second, 9 hours 59 minute 59 second 99 milliseconds), Laps and Splits (99 laps), Timer, Alarm, Dual Time, Battery Life Indicator, Time Informing Function.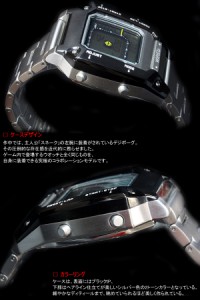 Due to popular demand, stocks are limited.
Place your order here as soon as possible, to avoid missing out.