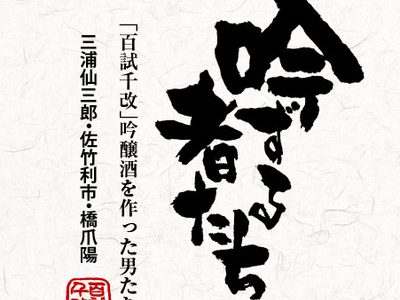 The Movie about Japanese sake brewing
Do you know that the movie about Japanese sake brewing was recently released in Japan.
It's named "Ginzuru mono tachi"
Story synopsis
Asuka Nagamine breaks her dream in Tokyo and heads to her hometown of Hiroshima. Her parents' house is a sake brewery inherited by the descendants of Mr. Senzaburo Miura. Her adopted daughter, Asuka, has been interested in sake brewing since she was a child, but she has avoided taking over her parents' home if it is not suitable. Asuka, who has lost sight of her goal, sees the memoir of Miura Senzaburo, which her father Ryoji calls her "heirloom".
"Try again and again! Find it and fix it, no matter what!"
In the early Meiji era, new rice brewer Miura Senzaburo was repeatedly hit by "rot" in which the sake inside was rotten during brewing. Lack of funds, death of his parents, beloved adopted daughter. In the midst of adversity, we continued to study the establishment of stable sake brewing technology that does not cause rot, and finally derived a low-temperature brewing method using soft water.
Asuka is strongly attracted to Sensaburo's idea of ​​"Hundred Trials Chikai", which he tried 100 times and revised 1000 times. At that time, his father, Ryoji, suddenly collapsed, and the office worker's older brother, Sota, insists that he should stop brewing even if he is preparing. Miura Senzaburo's feelings, her father's feelings for the new sake left in her notebook, Asuka go beyond her stubbornness and solidify her decision to start making "Hyakusho Chikai".
Takumi's spirit and skill, supporting family and friends.
In the land of Hiroshima, the tasuki of the scrutinizers were connected!
From the Meiji era to Reiwa. Can the new sake "Oikashin" brewed with feelings be completed over time?
If there is any Japanese sake you would like to carry in your store, please feel free to contact us! https://www.musubi-jp.com/blog/contact/
We also have EC store. You can purchase our original sake at SAKURA TOWN (https://sake-kampai.com/)